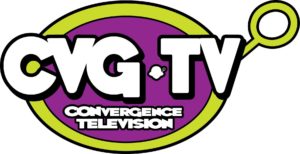 CVG-TV is CONvergence's in-house video production department. We create original content to air both on the CVG-TV channel during the convention, and on our YouTube channel throughout the year. Video can be a fun and informational way to both entertain and inform the membership about everything and anything CONvergence.
Our email address is [email protected].
Public Service Announcements
Public Service Announcements (PSA's) are short promotional videos that air on CVG-TV during CONvergence, on our CVG-TV YouTube Channel, and on social media such as Facebook. They should be short and engage the viewer about one or two specific topics.
Use this form to request a PSA production for your department. The deadline to request a PSA production is March 1 of the convention year.
Some examples from the past:
CON-Link
Hosted by Gregory Parks, CON-Link is CONvergence's talk show produced by CVG-TV. The program features interviews with Guests of Honor, current and former Convergence Events Board of Directors, and other leaders and change-makers in the CONvergence community.
Your Original Content on CVG-TV
If you have created video or film content of your own that you would like aired on CVG-TV during the convention, please see our page on the convention's website for specs and the application form.