Why CONvergence 2021: The Stuff of Legends will proceed as scheduled
Dear CONvergence Community,
Thank you for your patience over the past months! The Convergence Events Board of Directors has been working hard to discern how best to proceed this year. There were many decisions to be made based upon information that has been slow in coming and not always clear. We have gathered as much information as possible, which has resulted in a need to innovate and be creative—as well as make some tough decisions. We know you will understand.
Our first priority is the safety and well-being of our community. This has guided our decision-making and is the basis for some of the choices we have made.
Our next priority is the health of the organization, of which you all are members. While many people choose to participate by just attending the CONvergence convention, the annual  membership you purchase actually sustains the year-round Convergence Events organization.  The convention is one of the events we put on, one of the benefits of your membership, and one of the things that brings so many of us joy.
Because COVID-19 restrictions are being lifted, and because we have agreements and contracts in place with financial penalties for cancellation, we are faced with this choice:
We can proceed with holding a convention.
We can dissolve Convergence Events permanently.
We have therefore made the decision to proceed with holding a convention.
However…
Our community still remains our first priority. Not everyone feels or even is safe gathering for an in person event.  Herein is where our geekiness becomes one of our greatest assets. While we are proceeding, we have developed a couple alternatives to allow everyone to choose an option to participate in the way they feel comfortable. Please read on to see the plans for this year.
CONvergence 2021: The Stuff of Legends
To accommodate the needs and well-being of our community, we will offer three ways to participate in a unique model for CONvergence 2021: In person, Online and Staycation, each explained below.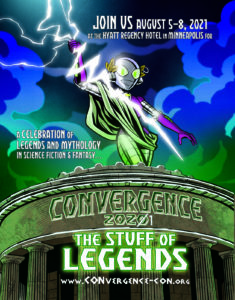 In-Person CONvergence Convention
The in-person convention event will include most of the fun things you have come to expect from CONvergence: Guests of Honor, panels, performances, Dealers Room, Artists Alley, Art Show, Gaming, Parties, ConSuite, and more. They may just be a little different and a little more spread out for everyone's safety. Future communications will include more specific details about what you can expect for each area and event, so stay tuned!
Online CONvergence Convention
For those who want a CONvergence experience, but do not want to gather in person, we will be offering online programming throughout the convention that will include some of the in-person events, as well as some online-only programming. More details about online programming will be forthcoming!
CONvergence Staycation
For those who do not want to attend the in-person convention but still have a need to get a break from being in quarantine, we encourage you to come stay at the hotel, but remain in the comfort and safety of your room. In addition to the online programming, you can enjoy special closed-circuit CONvergence programming exclusive to hotel guests, and you will get special activity kits from the Quantum Sandbox and more (to be determined) CONvergence fun and treats delivered to your room!
In-Person COVID-19 Safety Protocols and Restrictions
Attendees must wear masks in all convention spaces, and all attendees must be fully vaccinated.  We will have check-in stations for showing proof of your vaccination. You will be provided with a wristband, sticker, or pin (to be determined) that will affirm your vaccinated status. This will need to be worn throughout the convention, along with your mask and your badge.
Rooms will be set up with social distancing protocols in mind, and there will be sanitizing stations throughout the convention.
In order to support the members of our Convention Committee (ConCom) who may not feel comfortable or be safe attending, we are not requiring their participation. As such, there will be some necessary restrictions to facilitate a smaller group organizing and running the convention this year, in addition to COVID-19 safety. We will be capping attendance at 3,500 members and closing pre-registration on June 15th, 2021. No memberships will be sold after this date and there will be no at-the-door registrations.
Membership Refunds
Last year, due to the pandemic, we made the decision to postpone the convention and extend everyone's membership forward to include 2021 or offer an exception to our standard No Refunds policy because of COVID-19 conditions. This was the right thing to do for our community, but it did have an impact on the organization financially. The loss of revenue from rolling memberships forward and offering refunds impacts our financial position this year, and the flexibility available to us if we want CONvergence to happen in future years.
We will not be offering refunds for most Adult or Teen memberships because doing so would financially endanger Convergence Events even further. Your membership, whether or not you use it to attend CONvergence 2021, ensures CONvergence can continue next year and into future years.
Unfortunately, because we are requiring in-person attendees to be vaccinated, those under 12 years of age will not be permitted to attend. We recognize this will be hard for families who love attending CONvergence together, but we believe the safety and health of our membership must take precedence. We hope some families will take advantage of the Staycation option to have CONvergence fun together, but understand this will not work for everyone. Thus we are making an exception to our No Refunds policy for families who have purchased childrens' memberships. Additionally, if you have a medical condition that prohibits you from being vaccinated, please email [email protected] for accommodations. No other refunds will be given.
We Really Need Volunteers
Because of the unique circumstances around this year's convention, and the decreased number of ConCom Members during this convention cycle, we are looking for volunteers that will be necessary in order to put on the convention. Without enough volunteers, we will have to cut some areas of programming and services.
While we need help for the in-person convention, there are also many volunteer opportunities that will not require attending the in-person CONvergence event. And volunteers also get some great CONvergence swag! If you are interested in volunteering to help make CONvergence 2021 the best that it can be for everyone, please contact the Volunteers Department at [email protected].
Donations Always Accepted
If you are not planning to participate in CONvergence 2021 and would like to convert your membership into a tax-deductible donation, simply email [email protected] and we will issue a receipt for your taxes. If you would like to make an additional donation to Convergence Events in any amount, please use the button below.
You will receive a tax receipt and the gratitude of a community that needs your support.
Again, thank you for your patience and we hope that you will find something in this year's convention that will appeal to you. As a community, we will improvise, adapt, and overcome the obstacles. Together, we will make CONvergence 2021 the best we can, and continue to build towards a better future.
Thank you for supporting our community.
Sincerely,
Convergence Events Board of Directors