Director of Facilities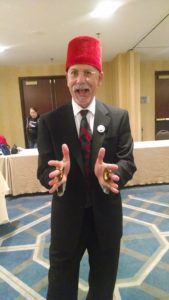 Nadim started working on SciFi conventions at the age of 18 in Canada. Over the years and various different conventions, Nadim has helped run party rooms, media relations, operations, and ConSuite among many other things.
Reading SciFi/Fantasy from an early age is what drew Nadim into this world, lugging his collection of SciFi/Fantasy books from city to city. He was sucked into Star Trek and the mind blowing experience of seeing Star Wars when it was originally released. Nadim's connections in the SciFi community ultimately brought him to Minnesota.
At the inception of CONvergence Nadim was invited into the Operations department and transitioned over to ConSuite in 2011. Over the years he has worked in concert with a host of great volunteers. In 2015 Nadim made the decision to run for the newly created Board position of Facilities. This new directorship was formed to to care for the the areas of the convention that deal primarily with the utilization of the spaces in the hotel.
With Nadim's convention experience, along with his professional experience in in the transportation industry, he brings a mix of business savvy and understanding of geek culture to the table to help transition the hotel staff into a better understanding, which helps bridge the gap between the parallel universes.
One of Nadim's driving motivations is a desire to share his experiences to help strengthen this wonderful community.
Favorite Quote: Common sense is the least common of all senses.