Director of Systems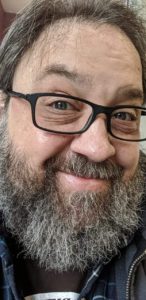 As Director of Systems, Michael Scott Shappe oversees IT and Finance. The primary focus of Systems is support, be it of the year-round needs of the convention, or the fill in needs of other directors.
Michael Scott Shappe, also known as "Uncle Mikey", has been attending CONvergence since 2005, and volunteering for it since 2007, first as a dispatcher for Operations, then as a subhead and later IT specialist for that department. While working for Operations, he was the primary developer of ConOnRails, the software used to log incidents, keep track of radios, and manage other tasks for Ops, NerfHerders, and Hotel Relations.
More recently, he has been the head of Publications (CVG 19–21) and, for CVG 21, also co-head for Creative Services, both of which are mainly pre-con roles; while serving as a sub-head for Hotel Relations (mainly an at-con role). He also can often be found sitting on panels during the con.
Outside of CONvergence, Mikey is also involved in the Society for Creative Anachronism, where he recently had the honor of serving as King Consort of the Kingdom of Northshield, and has also served as a herald and in various offices both locally and for the kingdom. Before moving to Minnesota, Mikey co-founded the Ithaca-local chapter of Starfleet, USS Accord, which he served as executive officer until coming here to the Twin Cities.
In what some people choose to call the "real world", Mikey is a 30-year veteran of the software industry, where he's worked on everything from device drivers to web applications, and has also served as manager of engineering teams. He also spent many years running a small ISP and web-hosting service as a side-business. His education, however, was originally aimed at a career in publications!
Mikey's fandom goes almost back to the cradle, where his parents raised him on Star Trek reruns and encouraged his interest in science fiction and fantasy as a way to get him reading. Science fiction, fantasy, and history still make up 95% of what he reads, and just about the the only media he watches, to boot.
Favorite Quote: "Each day, sometimes each hour, brings change." — Frank Herbert