Director of Communications and External Relationships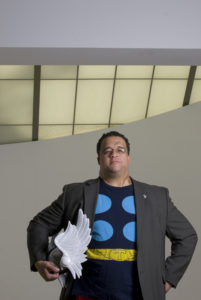 Jonathan Palmer (a.k.a. JP) was appointed to the Board of Directors for the newly created Communications and External Relationships Division (formerly Data Transmissions, formerly Membership Communications), and later was elected to the position. In this capacity as Director, he oversees public relations and marketing efforts, including the WebTeam, Social Media, Photography, Creative Services, Advertising, and Publications Departments.
JP attended his first CONvergence in 2010, and promptly fell down the rabbit hole in love with CVG. In 2011, h began volunteering as the Subhead of Artist Alley, staying in that position until taking over as Co-Head of Dealer's Room in 2015.
Aside from an extensive collection of superhero posters, props and colognes, JP has over 20 years experience in public and nonprofit management. He has worked in the nonprofit, public and private sectors and bring experience and networks from all three. From managing a $27M federal program to an 86 year old historic nonprofit organization, his experience and networks in fundraising, government relations, and public relations will help support CONvergence and the great work it does.
In his own words, he has lofty ideals, but is committed to purpose. When he plays, he plays hard. When he works, he doesn't "play at all".
Favorite Quote: "If you will practice being fictional for awhile, you will understand that fictional characters are sometimes more real than people with bodies and heartbeats." — Richard Bach, Illusions