Director of Productions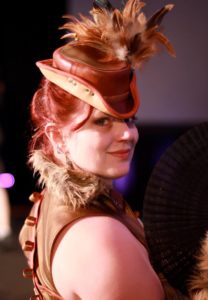 Amy Mills oversees the Productions Department, which schedules, produces, and records videos of all performances on Mainstage, as well as videos taken throughout the convention space. Productions include Opening and Closing Ceremonies, Masquerade, and the nightly rave.
Amy began attending with the July 4th fundraiser that took place before the very first CONvergence. She volunteered as a badger for CoF2E2 until she was asked to become Head of the Decor Department. After that, due to her background in theatre, she was approached about consideration of running for the Board of Directors for the newly created Productions Division. Her BA in Theatre and Film from Saint Cloud State University, with focus on Theatrical Costume Design, makes her a great fit for the position. In the past, she has worked as a costume designer for many local theatres, such as Outward Spiral, Fifty Foot Penguin, Directors Theatre, and Youth Performance Company. She has also worked at the Guthrie and the Children's Theatre as a stitcher and wardrobe assistant.
In addition to geeking out over costumes, she has a passion for beading, weaving, knitting, and really anything with string. Although she's always preferred sci-fi over fantasy, her first real collection of comic books was Elf Quest, and she is currently enjoying re-reading them online. While her sister played Dungeons & Dragons during its development, and even provided some artwork for supplements, Amy has never played. Her roleplay experience is with a system written by a friend.
Favorite Quote: "Whoever wrote this episode should die!" — Galaxy Quest