Director of Systems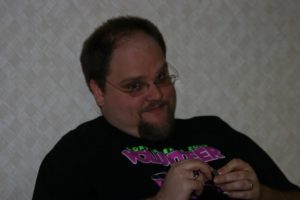 As Director of Systems, Thomas Keely oversees IT and Finance. The primary focus of Systems is support, be it of the year-round needs of the convention, or the fill in needs of other directors. He is also the Chief Financial Officer and filling the needs of financial direction for the organization.
Thomas joined the CONvergence Board in 2009 after previously serving on the board for MiSFiTS/GPS in 2005-2008. He has been a part of this community since 1983 when he started volunteering as a "snot-nosed kid with thoughts of giving back to a group that finally felt like home". Since then, he has worked in various departments, including Convention Services, ConSuite, Operations and many others.
Completing a college program in Accounting as well as numerous IT certifications and experience have been exceptionally helpful as a resource to the board for designing and maintaining viable and workable accounting practices that have allowed the convention to build a solid financial foundation. Also, completing several leadership and management programs and certifications has been instrumental as a resource for design and focus.
Science fiction and fantasy mixed with a very strong involvement with the space programs and have kept the focus on the stars and what could possibly be. For Thomas, an evening at home geeking out while reading orbital charts is only made better when followed up by a few hours lost in the worlds of flight and fancy.
Favorite Quote: "Understanding is a three edged sword: your side, their side, and the truth." – J. Michael Straczynski